Small Group Study Guides
Study Guides for both The Smart Stepfamily DVD and The Remarriage Checkup Available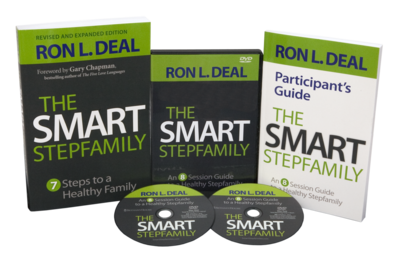 The Smart Stepfamily DVD and Participant's Guide
Whether for individual or group use, The Smart Stepfamily DVD will help you become stepfamily smart. This study utilizes the following format 1) group discussion; 2) watch the video; 3) discuss & apply the video content; 4) reinforce the teaching with between session reading in the softcover book.
The book, DVD, and Participant's Guide can be purchased separately or together. The Revised and Expanded Edition of The Smart Stepfamily was released in May, 2014. The cover of the DVD series was updated to match it (though the content of the video series is the same as before) and a new Participant's Guide was released with it. Previously, you downloaded a study guide and printed it for participant's. Now, you need to purchase the new Participant's Guide for each person in your group. You can order from FamilyLife, Amazon, or wherever books are sold.
The Smart Stepfamily DVD: Promote your class/group with these fillable bulletin inserts and posters
PDF document, Adobe Acrobat Reader required.
Print Options:
Email forms to a local printer (e.g., UPS Store, FedEx Kinkos)
Print at your church
Use an online printer (e.g., www.PrintPlace.com)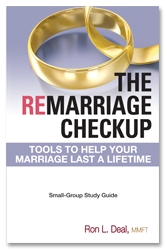 This 13-week Study Guide accompanies The Remarriage Checkup book. Designed to strengthen blended family couple relationships, this is an excellent "next step" study for couples who have gone through The Smart Stepfamily DVD.
An intimate, small-group setting encourages transparency and intensifies your learning experience through group discussion, shared accountability, weekly projects, and mutual encouragement. Gather with some friends who have encountered the same challenges you have and who share your concerns.
Previously offered as a PDF download this study guide is now available for sale through FamilyLife.com.
Each couple should receive one copy of The Remarriage Checkup softcover book and two copies of the study guide.
Learn from someone else's story and encourage others with your own. Whether you're dating, engaged, or already married, lean how to beat the odds of divorce and help other couples do the same.