Non-traditional Family Continuum of Care: A Ministry Model
www.InStepMinistries.com
Introduction
Stepfamily ministry is a rather new phenomenon. With an increase in the number of non-traditional families (e.g. stepfamilies, single-parent families), the need to learn how to dialogue with these new family forms has risen. These families face challenges that can be very different from those of traditional nuclear families. Stepfamilies, for example, have unique dynamics and characteristics, yielding a variety of different needs. The role of the church, however, is not different. We are to encounter these families at whatever stage we find them. Our task is to help them heal, strengthen and affirm their marriages, assist them in the faith formation of their children, fold them into our faith community and equip them for service.
How does the church connect with and effectively minister to these families? Critical to effective ministry is an understanding of the important events in the life of a single-parent or stepfamily. These events become touch points for the church to connect and walk with these families. Each event calls for a different level of response. The Non-traditional Family Continuum of Care© is built around these events, and provides an overview of the scope of ministry and the sequence of how a stepfamily forms and develops.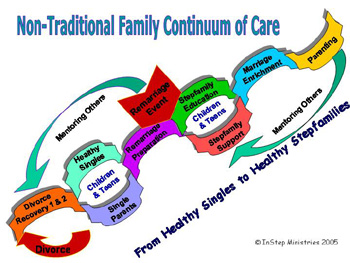 What is the Non-traditional Family Continuum of Care?
The Continuum of Care is a developmental model for understanding the scope and sequence of stepfamily ministry. The model provides a panoramic view of the key events and processes that are involved in the development and ongoing life of stepfamilies. At a deeper level, it is represents a philosophy of ministry; one that sees as its goal the integrating of various diverse family groups into the community of the church. The purpose of stepfamily ministry is not to segregate stepfamilies, but to affirm and recognize their unique needs and challenges and integrate them into the body of believers.
What purpose does this model serve?
First, the Continuum of Care serves as a model for understanding the developmental nature of stepfamily life and the various touch points for ministry. Second, it serves as a tool for choosing specific ministries that a ministry team could implement based on the mission, needs and resources of their local congregation. Finally, it helps to identify resources for specific ministry components.
How does it work?
Non-traditional families are formed through life events such as death, divorce or adoption. How does the Church provide care and stay connected with individuals and families who experience these events? The model answers this question by providing three distinct levels of interaction. First, it identifies life events (e.g., divorce, engagement, remarriage) and how individuals and families process through them. Second, it defines various family formations (e.g. divorced singles, children of divorce, single parents, stepfamilies). Third, it identifies critical opportunities for intervention and ministry.
Let's look at the various components of the model (refer to the picture above). Not every church will have all these components. Each church will choose the ones that best fit their needs, resources and mission.
The continuum of care flows bi-directionally from the remarriage event. To the left of this event, is the sequence leading to remarriage. This sequence typically begins with a death or divorce. Divorced or widowed individuals will filter into Single or Single Parent groups and ministries. When singles and/or single parents meet and begin dating, they will need relationship and pre-remarriage counsel and education. It is critical that these individuals learn healthy relationship and divorce prevention skills because approximately 80% of them will remarry. At the decision to remarry, the couple (and family) will need mentoring as well as pre-remarital counseling and preparation.
When a remarriage occurs, the event should be acknowledged and celebrated by the congregation and the new marriage and family affirmed. There are approximately 1,300 remarriages every day, and currently, most do not occur in churches.
Stepfamily life begins at the remarriage event. On the continuum, to the right of this event, are various ministry interventions designed to support and maintain the health of the new stepfamily. These include stepfamily education, mentoring and support—to create stability for the new family. Later, as the family is fully integrated into the life of the church, they will join other couples and families and participate in a wide range of marriage enrichment and parenting groups, events and classes.
The Continuum of Care can be a useful tool to assist the local church in ministering effectively to the non-traditional families in their congregations and communities. At its heart, it is about building relationships; relationships that affirm, include and ultimately transform. Few churches can or will choose to create programs to minister to all the groups listed; however, the model demonstrates how these ministries interconnect and can facilitate the healing and equipping of individuals and families as it integrates them into the life of the local church.
---
Jeff & Judi Parziale are co-directors of InStep Ministries ( www.instepministries.com), a non-profit organization dedicated to serving the community by providing practical, Biblical resources, support and counsel to single, divorced and remarried individuals, their families and the churches who minister to them.