---
Hosting a Building A Successful Stepfamily Conference guide - download
"We Want to Host a Conference" Request
Typical Conference Schedule
Download Stepfamily Conference Promotional Video
---
This site is managed by Ron Deal and Smart Stepfamilies.
Ron's Sunday lesson was the most redemptive message I've ever heard on the family.
In a church with over 25,000 members we have just about every stepfamily scenario you can imagine. Ron Deal brought the conviction of God's truth and practical biblical solutions to every household represented. Our members left feeling a sense of hope and empowerment over their circumstances.
In a church with over 25,000 members we have just about every stepfamily scenario you can imagine. Ron Deal brought the conviction of God's truth and practical biblical solutions to every household represented. Our members left feeling a sense of hope and empowerment over their circumstances.
"Ron Deal is the real deal! Ron has changed my life, my family, and our church forever. As both a Senior Pastor and a stepparent I have found his materials invaluable and his insights profound. Navigating step-family life is a delicate process, the competing allegiances in even the best stepfamilies can be so very confounding, but Ron's biblical wisdom goes a long way to minimizing unnecessary collisions and unnecessary pain. If you are in a stepfamily, like I am, do whatever it takes to get Ron's material and to attend his seminars, I promise you it is worth it.
---
Why Host This Event?
Become relevant to your church congregants and community families (approximately 40% are stepfamilies)
Launch a stepfamily ministry that will extend into the future (Ron doesn't just do an event, he equips you to have an ongoing outreach to stepfamilies)
Prevent redivorce and diminish your counseling load (prevention is worth a ton of cure!)
Every Christian stepfamily dreams of building a home where God is served and children grow in faithfulness. Yet, putting together the three dimensional pieces of the stepfamily puzzle can be quite a challenge. Indeed, most find stepfamily life to be confusing, frustrating, and a barrier to their spiritual goals. Perhaps that's one reason why the majority of remarried couples never finish building their dream home and end their remarriage in divorce.
Presented by popular speaker Ron L. Deal, the Building A Successful Stepfamily Conference is a practical, yet comprehensive training event that teaches adults how to build their stepfamily dream home and nurture a household of faith.
Declared a "necessary and cutting edge" addition to the field of family ministry, this conference can have a dramatic impact on the stepfamilies in your church and community. (Want to know more about starting a stepfamily ministry? Click here.)
This conference has been presented in a variety of church denominations including: Southern Baptist, Church of God, General Baptist, Church of Christ, Vineyard, Christian Church (Independent), United Methodist, Catholic, Free Methodist, Nazarene, Presbyterian, and non-denominational community churches. Specific doctrinal teaching on marriage, divorce, and remarriage is not presented during the conference so that your church can present its views without confusion. Let us partner with you to touch the lives of those in your community.
Are You Ministering to Today's Families?
More than 1 out of 2 Americans today are now, have been, or will eventually be in one or more step-situations during their lifetime.
Approximately 40% of all families in the US are stepfamilies.
The majority of stepcouple marriages will likely end in divorce (learn more).
Ron, I can not tell you what a fantastic weekend it has been for Mike and I. We attended your workshop this past weekend in Little Rock. At last, we found someone who really knew what we had been going through as a stepfamily. You are simply amazing and your presentations were wonderful in relating the Bible to real life and stepfamilies. You gave us a tremendous amount of insight to our situation.
Conference Objectives:
This weekend workshop addresses the key aspects of healthy stepfamilies including:

God's Love for Stepfamily Individuals
Blending Style Myths & Realities
Priority One - Your Marriage
Unique Characteristics that Cause Stress
Parenting & Stepparenting Roles
Helping the Children

To help participants develop a Personal Integration Plan for strengthening their stepfamily.
To provide practical ideas in the participant Seminar Manual for building a stronger stepfamily.
To equip church leaders to better shepherd and minister to stepfamilies. (Ask about the "Ministering to Stepfamilies" pre-seminar workshop for ministers!)
To lower the remarriage divorce rate and build stronger stepfamilies who live for God in faithfulness.
Breaking the Cycle of Divorce
Not all stepfamilies begin with divorce. For those that do, it's very important that we help them break the cycle of divorce and not divorce again. Consider these truths:
Children whose biological parents have divorced are roughly twice as likely to have their marriage end in divorce compared to their peers from intact families.
When a host of variables are taken into consideration (including genetics, socioeconomic, & psychological factors) as to why children of divorce later themselves divorce, the actual divorce of their parents still accounts for 66% of the increased risk (Brian D'Onofrio, Indiana University Bloomington).
When a parent later marries (forming a stepfamily) and divorces again, the negative effects of parents' marital transitions are cumulative. The well-being of children goes down as the number of marital transitions goes up (see Kurdek & Fine, 1993, Journal of Family Issues).
What results is a generational weakening of marriage and an increase is the likelihood of divorce.
The good news is that breaking the cycle of divorce and making stepfamilies successful will increase the likelihood that children will have a stable marriage when they marry. Help break the cycle!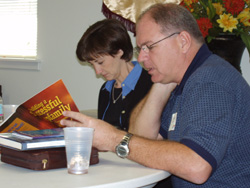 ---
For more information:
---
Seminar Feedback: This email from a seminar participant shows the potential impact of this seminar. Used with permission...
Dear Ron,
It's been an interesting week since attending your seminar in Benton. Les and I had an excellent experience during the workshop! But what I want to share is that we found that your workshop allowed us permission to remove a lot of stress that we had heaped upon ourselves.
One of our focuses as a married couple was the desire to create stability for the children. Working with children with disabilities and behavior difficulties, my role as teacher is to basically identify and modify behaviors that ultimately keep my students from achieving. In going into our marriage, Les, his mom, and even the children's mom all commented innocently that they couldn't wait to get them to me so I could "fix" the children.... help them get over the hurts.... get them back on track. The older children definitely had emotional damage as well as scholastic damage from the stress in their home for the past six years since their parent's divorce. This put a tremendous amount of pressure on me...for you don't undo 6 years of hurt in 13 months. Les also had a high need to be the father my children hadn't had--responsible, solid, disciplined--and while they easily loved him, and loved that they saw him loving me and my life happier, they weren't sure he had the right to be Dad.
The workshop gave us permission to reflect that communication wasn't happening smoothly. Though well intentioned, everything was too much, too fast. Lessons learned: I witnessed Les and our oldest daughter Kimberly sit down Sunday night and in a matter of an hour, it was as though anger, hurt, bitterness, isolation fell to the floor as Les acknowledged her hurts and his part in engaging in alienating her. I watched an angry caterpillar, who regularly plastered the cocoon with even thicker walls willingly start hammering through issues that is allowing her to emerge even a week later. How vital that she will leave for college in the fall knowing that she is valued and loved and not the "abandoned child" she felt she was. At some level, a lot of her healing had to do with calling her on behaviors she new were not fair (manipulation and setting others up) and allowing her to ask forgiveness and at some level just allowing her to admit freely that she had in fact done these things.
I personally felt your words gave me permission to say to myself (and perhaps to Les as well) that my job is only to be his wife and to love these children. It's not my job to fix them, heal them (that's God's role), compete with them or worry about angering them......if I simply focus on loving them in a healthy, balanced way, it will be enough. Parenting comes naturally and easily to me, and it was difficult to functionally understand that though the children may appreciate and even reciprocate the love I have for them, it is near impossible for them to feel it at this time. They have so many conflicting feelings about loyalty and at some level, the older child, I feel, feels deceptive if she does love a new parent. After years of being in (my childhood) nuclear family that required that everyone "please" each other, and no one certainly imagined blowing up at anyone, I am learning that it is perfectly okay for children to be not happy with a decision that sets healthy boundaries for all, and they don't have to appreciate it either. :)
Strangely enough, just like in class, the less I allowed the children to play games emotionally with me this week and hold to keeping first things first, the happier the week went. We knew, after talking to the other couples, that we were well on the road before the workshop, but this tune up has so wonderfully allowed our family communications to have the power it needed to gain for minimum pollution! he-he
Thank you again for your help and expertise in this journey we have chosen.
Sincerely,
Shanna Berry